Interview of Manuel Hinojosa, Author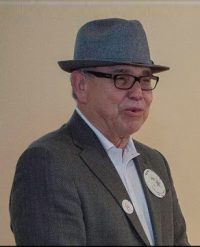 Interview Date: October 12, 2021
Manuel Hinojosa is a restless soul – a creative one – with an insatiable appreciation for discovery. Among his many interests are amateur archeology, history, entrepreneurship (he owns Doubleday's Sports Pub and Museum in Port Isabel), sports memorabilia and architecture (the profession at which he makes his living).  His public presentations are numerous and imbued with Hinojosa's infectious enthusiasm.  With his sports biography, Rode Hard, the Rise and Fall of a Horse Jockey, Hinojosa now adds "author" to his repertoire of creative work, which includes joining archeological digs at the San Jacinto Battlefield and his solo digs in Mexico and along the U.S.-Mexican border. A South Texas native, Hinojosa attended Mission High School in the Rio Grande Valley. He obtained His architectural degree from the University of Louisiana at Lafayette.
In the mid-1940s, a scrawny 8-year old boy, weighing no more than 80 pounds, was strapped onto a quarter-horse to run his first horse at El Ranchito, along the Rio Grande, just south of present-day San Benito. That would be the beginning of a forty-year carrier as a jockey for Herbie Hinojosa. Not unlike the career of most horse jockeys, H. Hinojosa's climb to the pinnacle of thoroughbred horsing was long and arduous. As a teenage jockey, Hinojosa might be characterized as an indentured servant, racing for one owner, and having to perform cleaning, watering and exercising services at the horse stables and while on the road, in return for food. On one occasion, his employer had a veterinarian treat Herbie's injuries to avoid the expense of a doctor. But Herbie would learn the ropes and his successes at New Mexico and California racetracks would catapult him onto thoroughbred horse racing.
Manuel Hinojosa introduces Herbie Hinojosa to us through his biography, Rode Hard, the Rise and Fall of a Horse Jockey.
Chuy Ramirez is an attorney practicing law in the Rio Grande Valley since 1983, and dabbles in writing.